Get Immediate Access to the Tools and Methods You Need to Build Courses That Get Results!
Don't Waste Your Money on Expensive Programs!
Over the years, as a leader of Training & Development teams, I learned many individuals who joined my training team, or whom I inherited when I took on a role, had no background in Instructional Design.
Some were SMEs who became instructional designers and training developers. Some were fresh out of college and had an academic background, but no real-world experience. Some were completely clueless and were just winging it trying to do the best they could.

Some had studied instructional design and worked as instructional designers but were in organizations that didn't embrace instructional design so they lost touch with their skills. Some were natural teachers, trainers, and educators who hit instructional design out of the park. Some had the drive to be great instructional designers but just didn't know where to start.
Can you relate?
I bet you can! Many instructional designers can!

What I learned when working with my T&D teams was that I had to do something to develop my training team or I was going to lose WONDERFUL people who had the potential to be amazing instructional designers and tremendous assets to my team.

What did I do?
I created step-by-step guides and processes to break down the work into simple and repeatable steps to guide them and help them achieve success.

The results were AMAZING! They became great instructional designers and training developers just as I suspected they would. In my step-by-step program, I will help you lay the foundation to become the BEST instructional designer you can be, too!
A couple of years ago, a former employee reached out to me to ask me if I would travel to Texas to train her team of instructional designers. She wanted me to share the things I had shared with her over the years with her staff. It was then that I realized that I could help more than just my team. That was the day I decided to build the Instructional Design Lab.
When you enroll in the Instructional Design Lab, my NO-BS, NO-FLUFF course, you get immediate access to the checklists, templates, guides, and methodology I use to train teams of instructional designers. You will be able to build quality training courses again and again! When you complete this certificate program, you will KNOW exactly what you need to create live, online, and blended programs!
The Instructional Design Lab was designed for people just like you, people who want to excel in instructional design and developing training courses and programs.
Here's What You'll Get When You Join the Instructional Design Lab…
My secrets, tactics, strategies, and tools are all included
A customized deep dive into the nuts and bolts of instructional design
My simple, but effective approach to understanding stakeholder course requirements, objectives, and desired results
Best practices in creating engaging, learner-focused courses
How to excite participants about learning and your boss with results that matter
My top three BIG strategies for writing killer course content
An outlined, step-by-step process that you can take and apply immediately to your course development
~ 20 videos that can be watched over and over when you need a refresher
Tips on how to create video courses with little to no investment
Tay Tay tips based on real-world experiences
The 5 training metrics to capture and measure
How to create interest in a course before it launches or participants show up
How to maximize learner retention with specific strategies and techniques
HUGE! Coaching and guidance by me through the course interface & private Facebook group
Validation that you are an expert in your field
Certificate of Completion
BONUS! Course Starter Template! (valued at $19)
BONUS! The 50+ Page Ultimate Course Development Guide (valued at $99) includes cheat sheets, templates, and checklists that can be used for both small and large scale course development
BONUS! Special topic videos!
BONUS! PRIVATE FACEBOOK GROUP and 1-1 interactions with Shawntay Michelle, the Trainologist
BONUS! 30% OFF any other course or template
After completing this accelerated program, you will be knowledgeable and ready to apply skills in the following areas and more!
And, when you are able to do all of the things listed above and more, how much confidence will you have? I imagine you will feel pretty good!
Will you be in a position to take your career in instructional design to the next level? I absolutely believe the answer is YES!
Don't waste your valuable time and money on expensive programs when you can get exactly what you need in this very affordable program!
PLUS, you get lifetime access to this course, which means you can revisit any section of content you want as often as you want.
PLUS! PLUS! When you enroll in the Instructional Design Lab, you will be provided with an interactive workbook, which is loaded with all of the templates and checklists you will ever need to build course-after-course.

Wouldn't it be cool if your entire team was using the same process as you? They could! You just need to teach them how or send them back here to take the same course!

PLUS! PLUS! PLUS! If you need help along the way, I am here to help. You are not alone in this process. I am here every step of the way!

What format is the course?

You will enjoy high energy, engaging video lessons designed to keep your focus, help you maximize your learning, and keep you engaged! What you won't find in this course is a talking head PowerPoint recording. Those can get really boring. No snoozing here!
The Instructional Design Lab must be expensive, right?
How much would you pay for 18 lessons, checklists, templates, real-world examples, an engaging learning experience, which focuses on what's really important and teaches you exactly what you need to know about Instructional Design as quickly as possible? I don't know about you, but I would have paid a pretty penny for this type of information when I first started out. And, man, if I could have sent my team to a training like the Instructional Design Lab, I would have gladly paid for them to go.

Fortunately, you don't have to break the bank to get educated or to develop your team!!! Sometimes, we discount products and services when something is priced significantly lower than what we imagine the cost should be. I do it so I get it, but when I built this course and priced it, my focus was helping my team and the teams of my friends, which later expanded to helping you…my new friend, so I have intentionally kept the price affordable.
My goal is to ensure that anyone who wants to develop their skills can do so, even without the support of a company budget.
Let me leave you with one last thought before making your decision, you could spend hours and years learning all of the things I cover in the Instructional Design Lab, but you have ANOTHER option! You could invest a little time and make a minimal investment in yourself and enroll in the Instructional Design Lab and learn exactly what you need to know and do in a single weekend!


Are you ready to INVEST in YOU?
"Get yourself signed up for Shawntay Michelle's course today and be on your way to success! Within the first week of taking her course, you will experience growth! Be sure to plug into her Facebook Q&A sessions for personalized help, too. This is THE course to take if you are new to instructional design or have landed on the training team and need help getting started."
– Patrick Hodges, Managing Partner, PHiG
"I am new to the training design and development world and I was SO excited to get in there, but I really lacked the real-world knowledge that would set me apart from my peers. And, then Shawntay Michelle walked into my life with an outstretched hand and a seemingly endless list of ways to knock every training out of the park. From the Training Analysis Form to the Tay Tay tips, this course made my life so much easier and even ironed out the review process that I had been struggling with for months. Take time to invest in your own learning and make sure to put Shawntay Michelle at the top of your personal development list! "
– Katie Carter, Training Specialist, LegalShield
I am so glad that I found Shawntay and the Instructional Design Lab along my instructional design journey! The way that everything is laid out step-by-step in the context of communicating with other people throughout the process creates an enjoyable learning experience. The focus on communication is why I would recommend this course to instructional designers of all experience levels, but especially newbies, recent graduates, and accidental IDs. I refer back to the modules in the course from time to time and always find new or updated materials. I appreciate how she models the instructional design process with the visuals and delivery of the course. Beautiful aesthetics, wonderful format, great delivery!

Ashanti H, Instructional Designer
Who Is This Course For?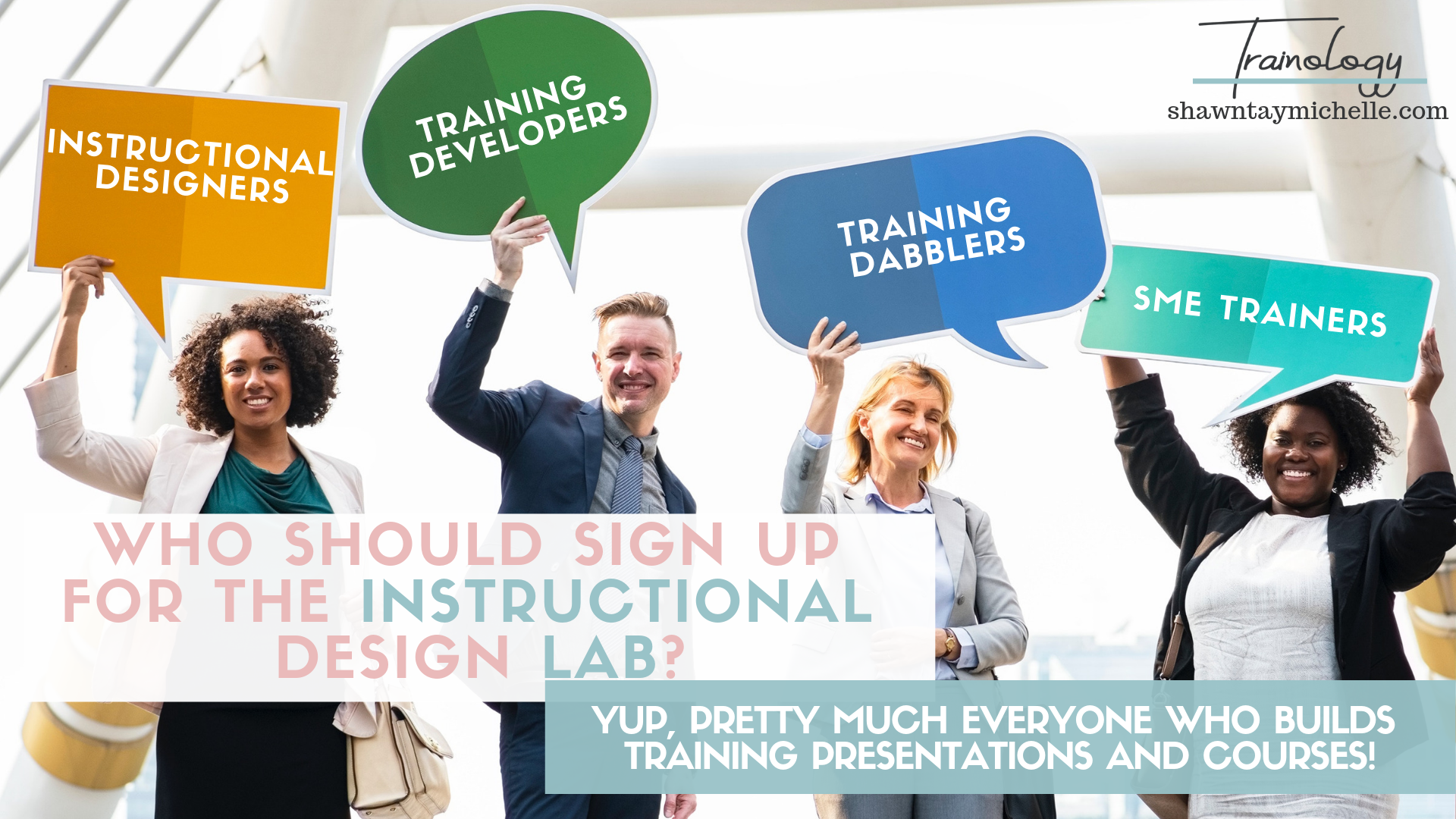 This course is ideal for everyone who isn't an expert instructional designer!

The Best Part?
You will get immediate access to my step-by-step ultimate guide detailing the system that I have used for the last 15 years to design engaging content and training courses that get results!
FAQs
When does the course start and finish? The course starts now with no expiration date! The ideal time to complete is 6-weeks but you can complete the course faster or take your time.
How long do I have access to the course? How does lifetime access sound? After enrolling, you have unlimited access to this course for as long as you like – across any and all devices you own.
What if I am unhappy with the course? We would never want you to be unhappy! If you are unsatisfied with your purchase, contact us in the first 30 days and we will give you a full refund.
Can I finish the course in a weekend? Absolutely! The course is completely unlocked, which means you could finish the course in a single day if you want to. The benefit of taking it slow is that between modules, you do some work on building your own course. Plus, distributed practice, like spacing your learning out, helps you retain the information better. But, if you need to learn fast, DO IT! You are in control of your learning – fast or slow!
Course Author
Hi, I'm Shawntay Michelle. I am a Trainologist, instructional design consultant, and workshop host who supports the instructional design needs of companies across North America. From building courses to developing the training team, I am here to help. I don't just support companies, however. I also train new and struggling instructional designers as well as consultants and freelance instructional designers how to manage training projects and build learning solutions that WOW clients and get results. I hold a Master of Science degree in Training and Development as well as an MBA. I am also a SAFe 4 Product Owner/Product Manager (POPM). I have served as an instructional designer, eLearning developer, training facilitator, adjunct professor, teacher, and as a global leader of training functions for various companies. If you have a training need or just need some individualized coaching, I am confident I can help.